They call you a Conch, if you're a local native  to Key West.  You gain honorary Conch status, when you've been around the Keys just as long.
At the time of this blog post, Hawk's Cay was part of the destruction impacted by Hurricane Irma. The Florida Keys were struck pretty hard by the Category 4 hurricane, which was the most powerful hurricane recorded in Atlantic history. I decided to share this story because of the relevance of my work in the Keys, as it relates to current events.
It was the only wedding I had ever shot the portrait for the bride and groom. The couple met while working at Hawk's Cay, a resort located on Duck Key. Kristen was a client that came to me as a referral from her sister, who was the girl in the drive thru window at the McDonald's near my salon. I had colored and cut Kristen's hair for about a year, when in conversation about my upcoming Florida Keys vacation, we realized we would be there at the same exact time (coincidentally her wedding weekend).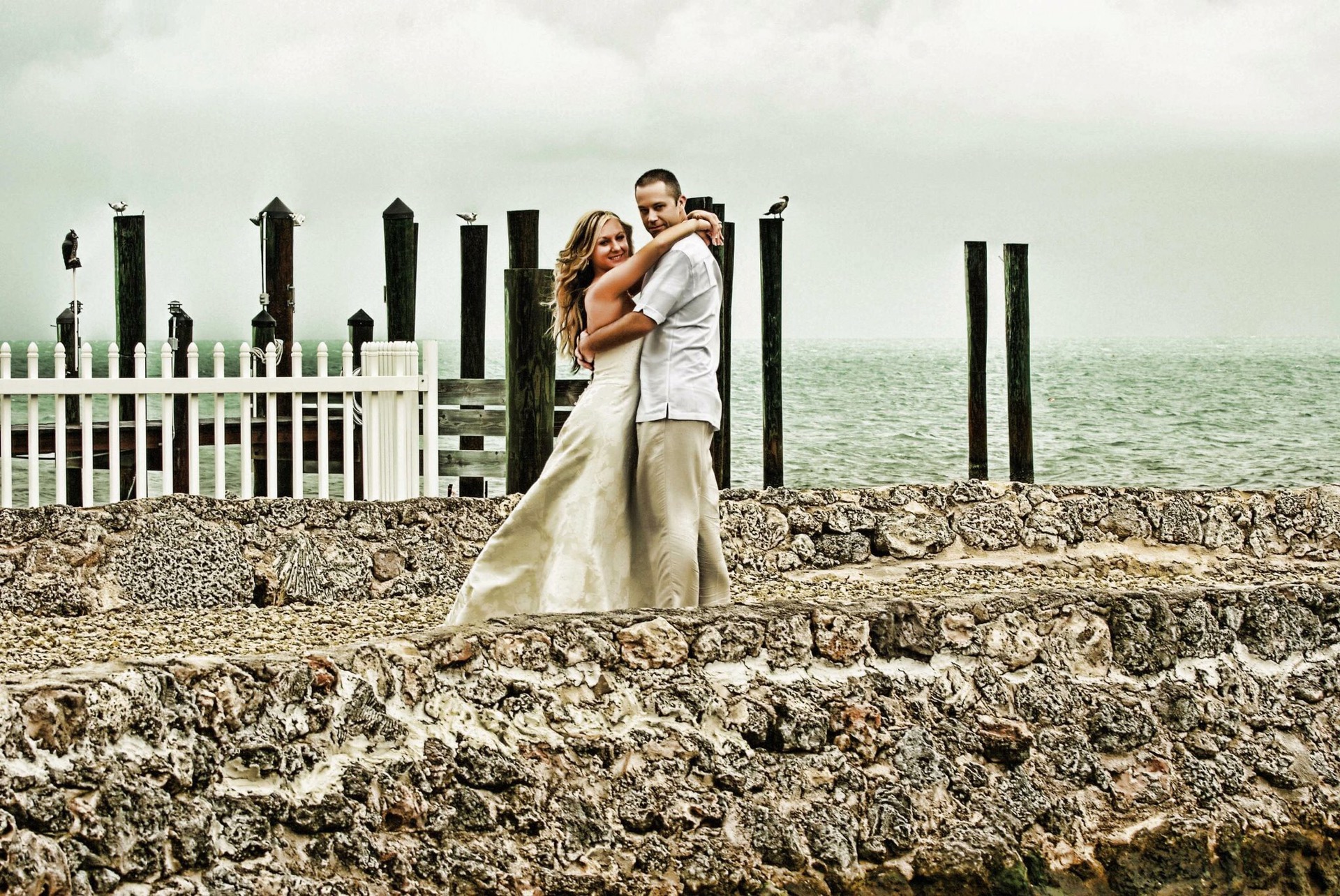 Kristen was so excited, she asked if I would consider doing makeup and hair for her and her maid of honour for the wedding at a private residence on Grassy Key. Grassy Key was actually relatively close to Big Pine Key, where I was going to be staying.  It was meant to be, for me to do her makeup and hair.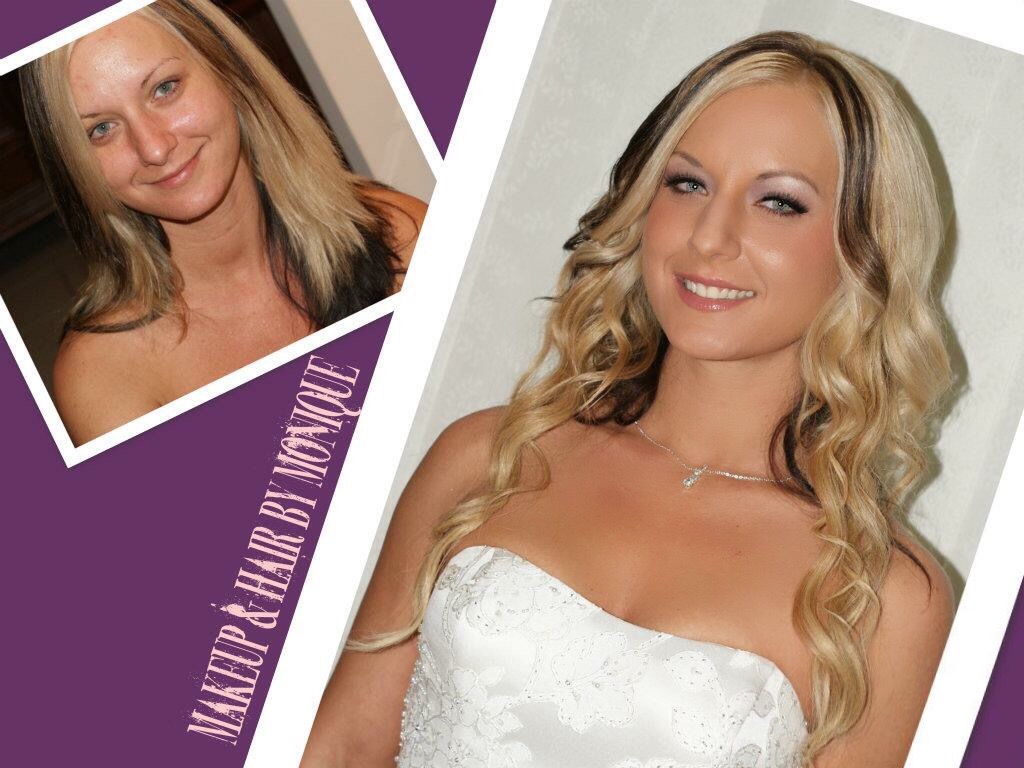 I was not originally planning on taking pictures, other than my standard portfolio makeup and hair shots. I ended up taking the only portrait of the wedding, when their photographer didn't show up that day.
Kristen wanted her hair to be longer on her  special day. We had always done a drastic two tone color with straightened hair, but she wanted soft romantic curls like every girl who wants to be a Victoria's Secret Angel.
I sent Kristen to Silky Beauty Supply to buy her hair extensions.  They have the best selection of quality hair and the Korean ladies there will custom fit the extensions to your head size.  They always hook up my clients with a discount on purchases, because I am usually in there at least once a week purchasing false eyelashes by the dozens. http://www.silkybeautysupply.com/. They did a fantastic job matching her hair color and sewing the clips to match her head's circumference.
The day of the wedding was a bit gray and rainy. I always worry about weather, especially when the wedding is outdoors and the bride chooses to wear her hair down.
I used Sebastian Shaper spray (Sebastian Shaper Plus Hair Spray, 10.6-Ounces Bottle
), as I feel it's the best for resisting humidity. We curled it with one of my favorite wands. Paul Mitchell Neuro unclipped. This set allows you to use three different sizes. Paul Mitchell Pro Tools Express Ion Unclipped 3-in-1 Styling Iron
The thing most women don't realize, is you actually have to make the curl tighter when the weather fights against you. It allows for the curl to relax and still maintain a pretty look in high humidity settings.
The wedding was a perfect situation where work meets vacation, or as I like to call it workcation. Although, when you love what you do, can you really consider that work? "Do what you love and you'll never have to work a day in your life." Isn't that what they say Confucius said?
The rest of the trip kept me around Big Pine Key, where my now ex-boyfriend's parents live. I always stayed with them whenever I visited the Keys and they evacuated to my house when the hurricane was projected to hit Big Pine hard. The relationship ended a few years ago, but I managed to keep the best part; the family who are still framily.  I actually visited the Florida Keys the week prior to the hurricane.  I took this picture of the Southernmost Point before it was damaged.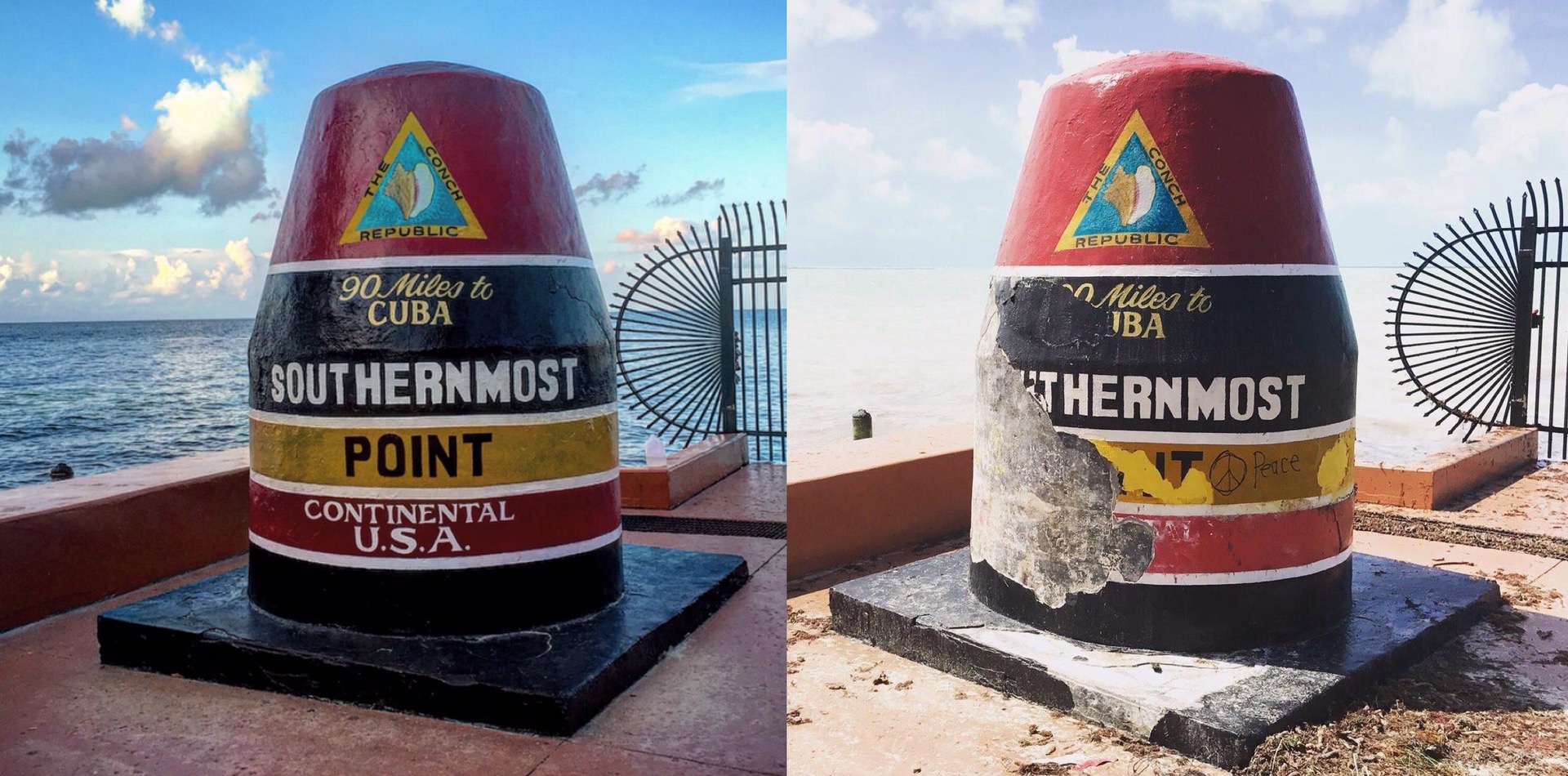 Big Pine Key suffered catastrophic loss, as the eye of the storm hit the neighboring key.  My framily's home was flooded with 18 inches of brackish water and everything in the home was destroyed.  Their home is uninhabitable, with mold already being an issue and lack of furniture and appliances. Luckily they have a motorhome they can stay in until they can start rebuilding.
In total, the Florida Keys reported millions in damages, with at least twenty five percent of homes being destroyed. Relief efforts are currently underway. A team from Florida International University estimates the storm's winds alone will set the sunshine state back 19.4 billion dollars, but it will be years before the true cost is clear.
The Florida Keys previously suffered a catastrophic loss in 1935, when a hurricane hit Islamorada at a Category 5 strength on Labor Day. This is one of three hurricanes to ever hit the U.S. Coast at Category 5 strength. The two previous hurricanes were Hurricane Camille in 1969 and Hurricane Andrew in 1992.
The Community Foundation of the Florida Keys is working with local non-profit organizations to provide necessary resources such as rent, medical supplies and childcare. Donors may specify a specific area of the Keys for their donation to benefit. https://cffk.org
The Florida Keys always holds a special place in my heart.  From my first visit there in 1992, to my most recent visit this past Labor Day weekend, it's been twenty five years of Conch life that I have enjoyed.  The Keys will rebuild and The Conch Republic will be back to its original splendor.