Originally my intent was to write a separate dating blog chronicling my adventures in the world of online dating. After initially trying Tinder (before I knew what Tinder actually was known for) and Bumble (where I dated a few nice men), I had given up hope of an actual relationship. After a girls weekend with one of my best friends, I convinced her to create a dating profile on Ok Cupid. I really wanted her to start dating, but I knew she wouldn't create one unless we both did. I convinced her that it was a better dating app because our other friend had just gotten engaged after meeting her fiancé on there.
Having met someone unexpectedly and entering the relationship world, my blog evolved into an individual blog post. The post would discuss online dating and how as a makeup artist, you can create several different looks and the varied men's reactions to each profile.
My original Moetercycle profile (until they required first names and then it changed to Moe) was very detailed.  I figured if I was receiving crazy messages to what I thought was a normal woman's profile, what must the other women go through? So I kitten fished a little and created two more profiles to prove my point.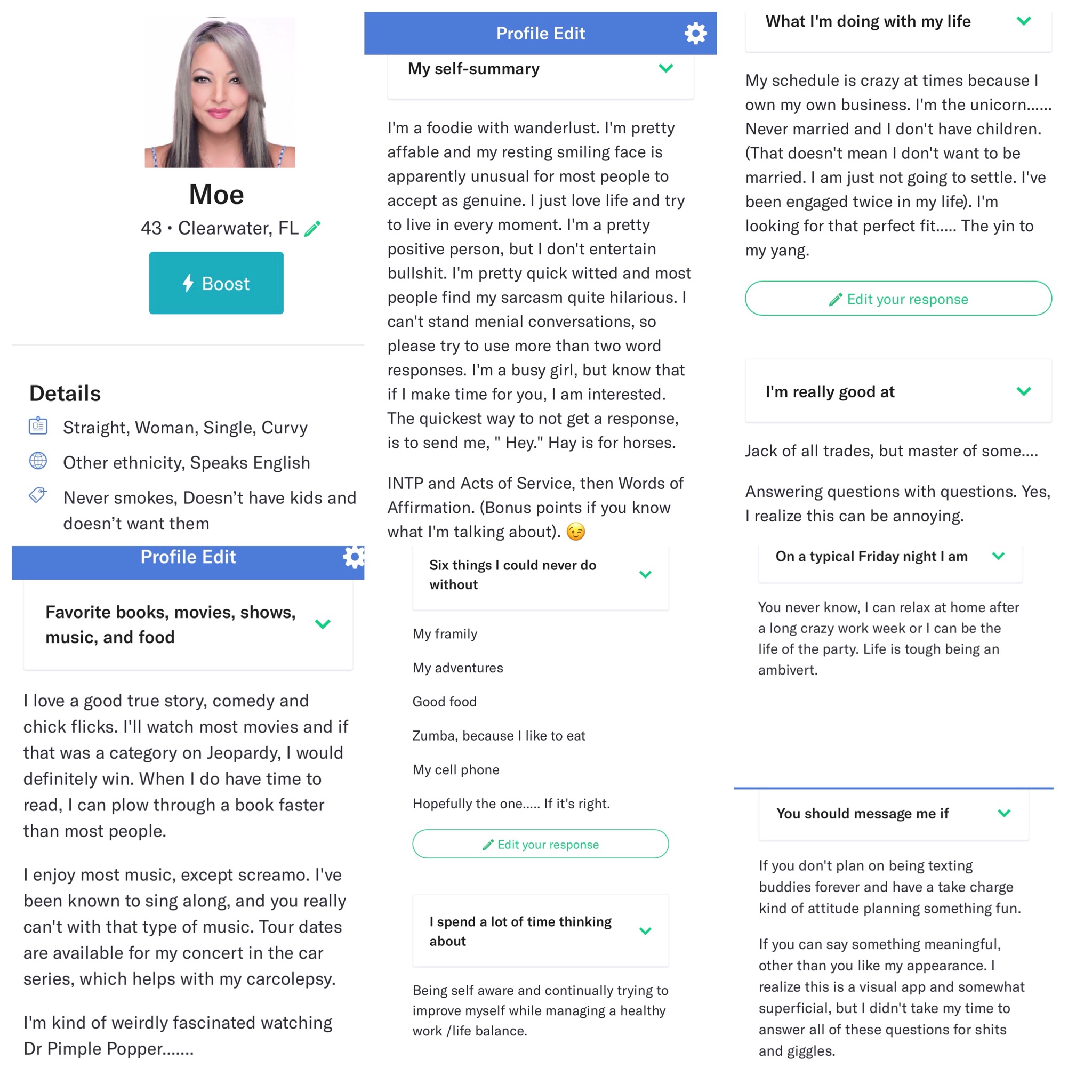 I've always had a love hate relationship with makeup. We sometimes worry, as women, how a man is going to react that first time he sees us without makeup.  It always made me think of one of my favorite movies Notting Hill and one of scenes I have always related to and often wondered about.
Anna Scott: Rita Hayworth used to say, "They go to bed with Gilda; they wake up with me."
William: Who's Gilda?
Anna Scott: Her most famous part. Men went to bed with the dream; they didn't like it when they would wake up with the reality.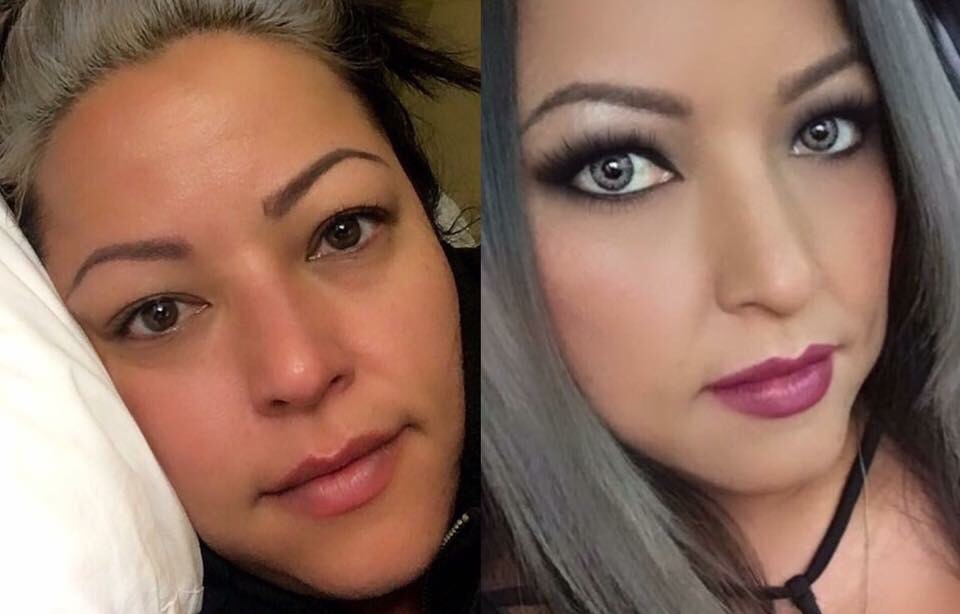 Often when I would post client before and after transformations, people would make a huge deal about how they sometimes didn't even look like the same person. I often thought people must wonder what I looked like under all the artistry and war paint. It could almost be an unfair advantage, if I wanted it to be when posting my profile pictures on dating apps.
I decided to make the "nerdy Asian" profile without makeup, wearing my glasses, and holding my cat. I picked the name CrAsian first, then had to change it to "Char" (after the Asian med student Charlene Yi on House). I was curious to see how this version of me was received on such a superficial way of dating.
The third profile was liberating in a different way. The sex pot Arianna could be as crazy sexy as she wanted to be. She would swipe yes to everyone, (because that's what men would do) and see what stuck.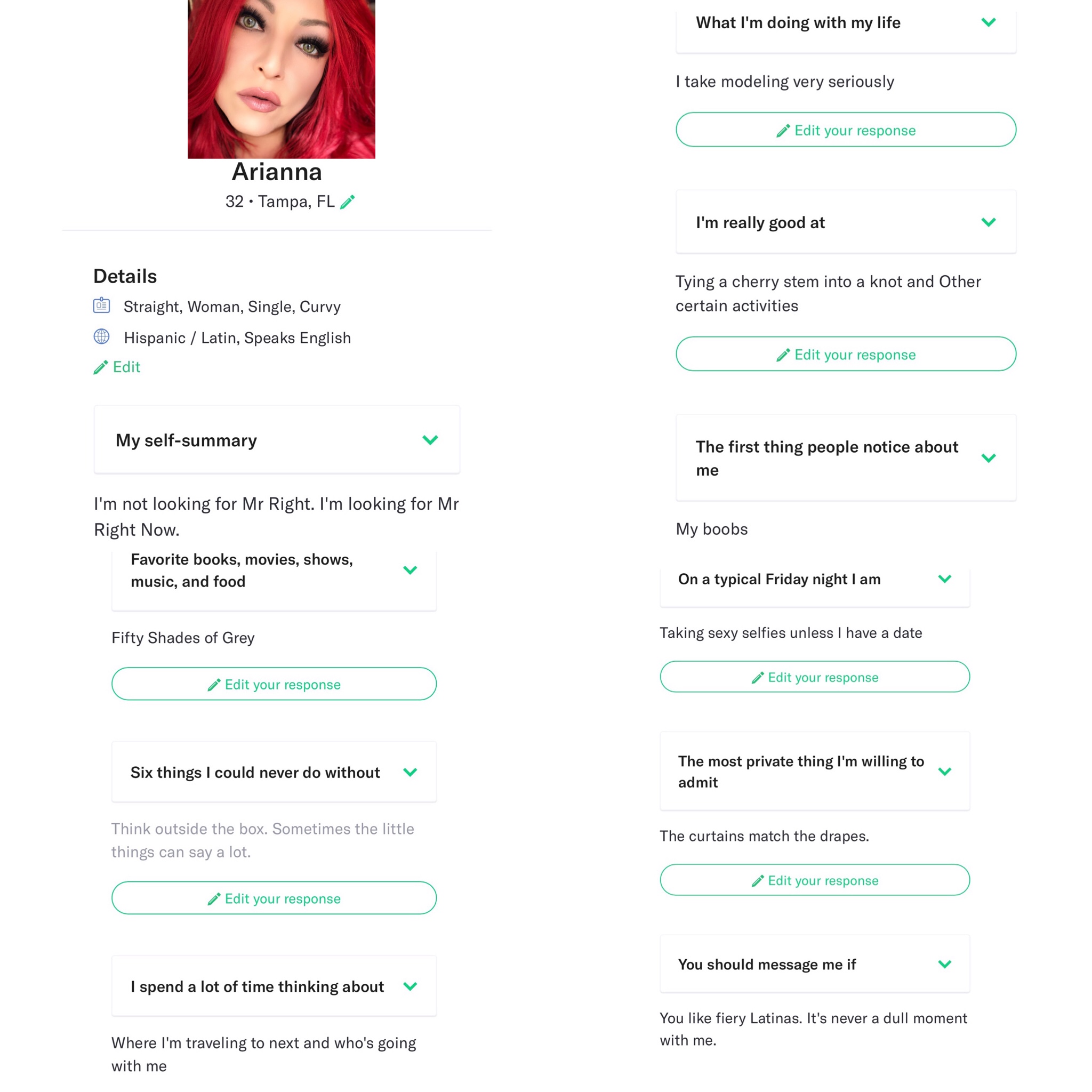 What was most amazing to me, was that multiple men would message the same copy and pasted message to all the profiles, not even realizing that I was the same person. On the flip side, men would be more respectful to Char than they would be to Moe or Arianna. To my amazement, several male Facebook friends recognized Moe and messaged me, surprised that I was single. Moe would get inappropriate offers of sex, while Arianna would get detailed descriptions of promises of oral sexual pleasures. Surprisingly Char attracted someone in the fitness community and we matched. This person probably didn't realize who I was, or that I even knew him, never mind the fact I know he is married with a baby on the way.
This was almost too good to be true. I decided that this blog post needed to be broken up into several posts to cover each persona and the craziness that ensued. I also wanted to create a more mature woman's profile named Joan, complete with gray hair and wrinkles to see if the older men were just as inappropriate with older women too.
I'm going to devote an individual blog post for each profile, so I can outline what happened with my real profile, Char, Arianna and Joan. I'll explain why I went with what specific makeup and hair looks for each persona. Call it Adventures in Dating, if you will. Stay tuned for my story first. The next blog in this series will show what happens when I date and eventually get into an unexpected relationship.