Everyone said if you want to meet someone new, try Tinder. It would be fun they said. It was interesting, to say the least. One of my model friends just came back from abroad and said she met her new guy on Tinder. Working overseas made it hard to meet people, so the app worked perfectly for her.
At the time, Tinder was the most popular location-based dating app. I had friends and clients who tried Plenty of Fish. They all said POF was full of weirdos and guys just wanting to hook up. I didn't realize that's what Tinder was. Tinder is where the unsolicited dick pics are abundant, in addition to the place where everybody from high school apparently finds you. According to Tinder, 85% of Tinder users are between the ages of 18-34. This definitely explained the number of younger men who approached me on Tinder.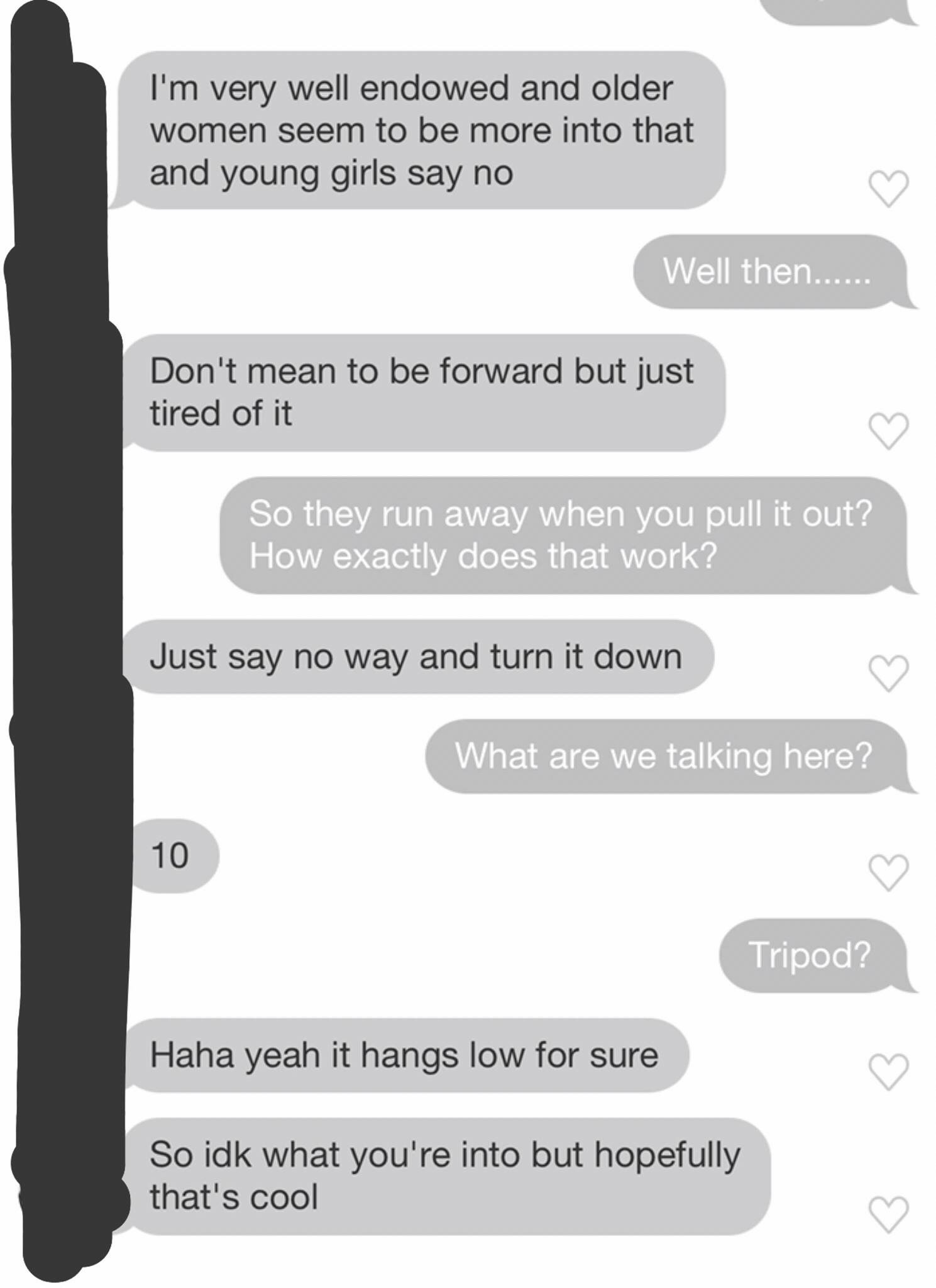 I struggled with how to describe myself in the allowable 500 character limit. What pictures would accurately portray me? This was worse than writing a resume.
I created my first dating profile on Tinder, not realizing what Tinder was known for when doing this. According to my guy friends, putting that you're not looking for a hook up on Tinder, translates to you are looking for a hook up. That was my first mistake.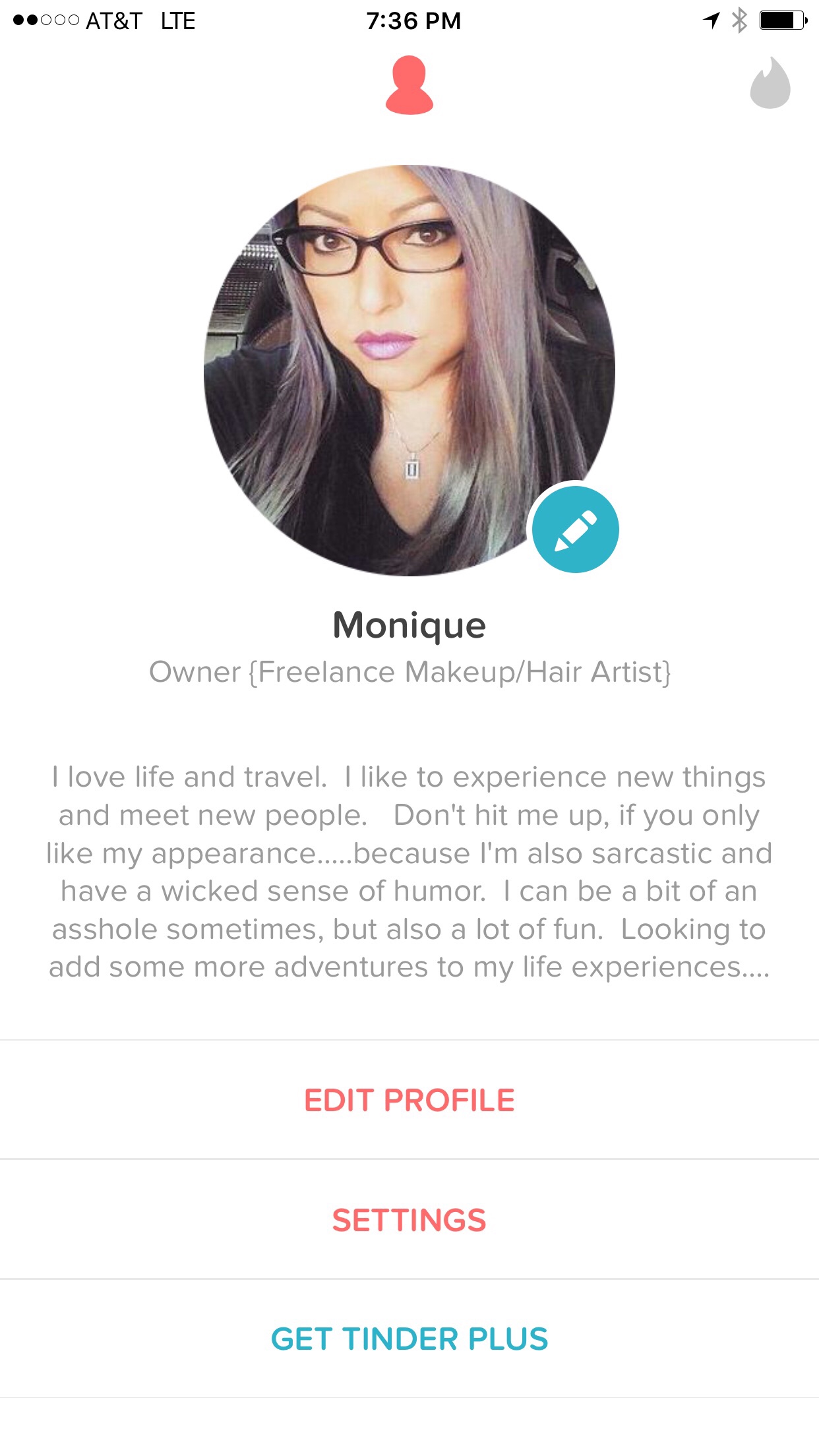 Tinder works as a match system. You swipe left to reject and right to accept. It was then I realized that I hated making a decision, unless it was a very obvious no (based on what they wrote on their profile). I wouldn't swipe unless I tried to exit out of it by swiping up, thereby accidentally "super liking" someone. I did that several times by accident, to my own horror, which further added to my hesitancy to swipe at all. I would come to find out later that men would swipe right to everyone, playing the numbers game. Depending on who would match, they would then decide who was worthy for a conversation. (By conversation, I mean they would start the conversation with "Hey.") It eventually got to the point where I wouldn't swipe anyone.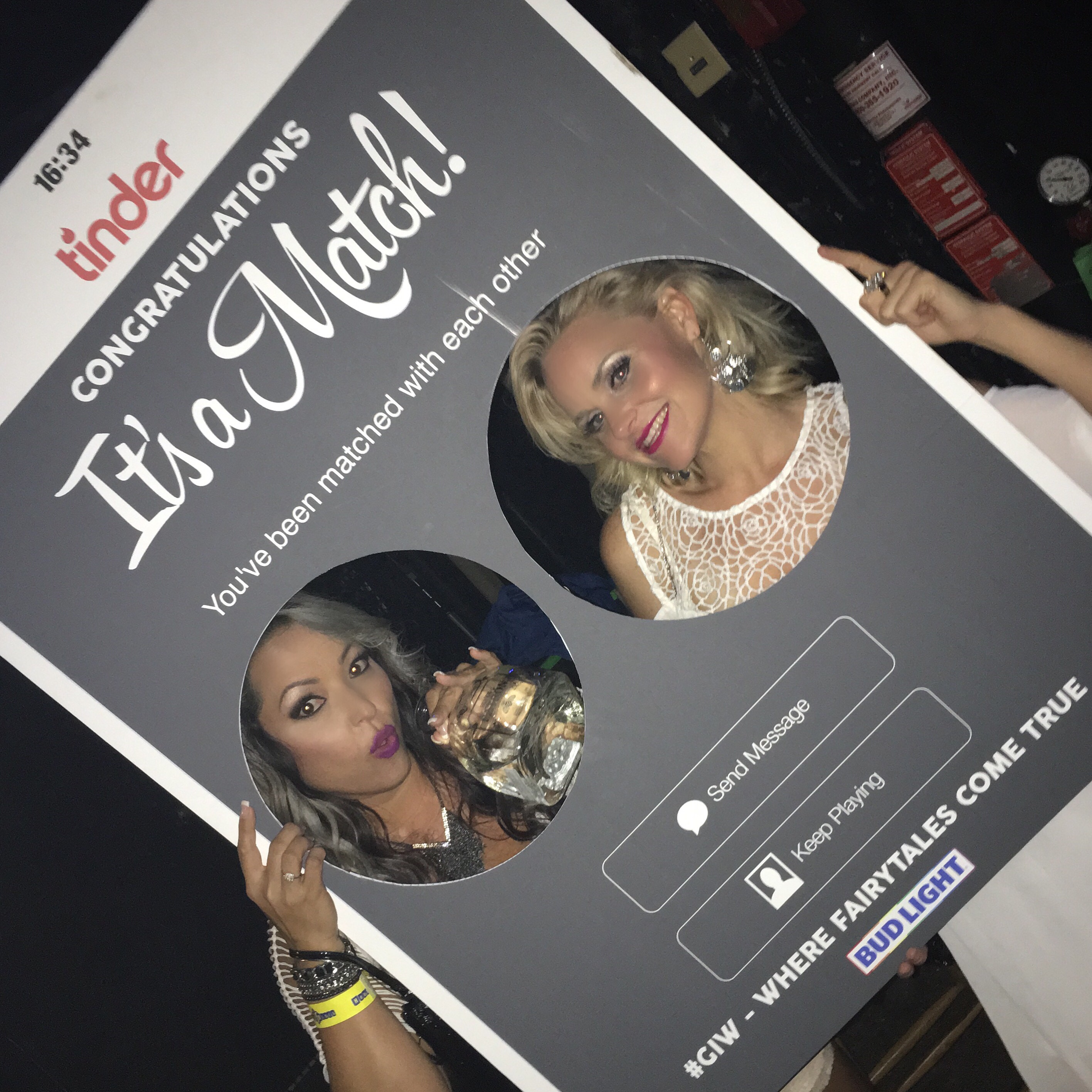 My married clients would like to peruse my potential candidates to see what this Tinder thing was all about.  My gubbies (gay husbands) wanted to see what the straight dating app was like (and would see the same men on their gay dating app too, which is another issue all in itself).  Eventually they ended up swiping men while on my profile. I would log on and match with half naked men with their abs showing, knowing that I didn't swipe right to that. One of my gubbies found it to be a fun game to see how many hot men I would match up with.  He was quite annoyed that everyone he swiped right on matched, more than from his profile.
You would be surprised by what people write on their profiles and what pictures they posted. There are numerous blogs sharing screenshots of funny Tinder profiles. Apparently holding a fish is the new standard for men, and yoga poses are their equivalent for the women. Some people would put group photos, where you would have to play guess who is the person in the profile.
I selected pictures which I felt accurately depicted me. I led with an image of me in glasses, a selfie in the car. I felt maybe people would take me more seriously as "smart girl." I didn't realize until I started getting questions about my smile, that I didn't post any open mouthed smiles. Apparently this leads men to assume that you have "jacked up" teeth.

My first Tinder date was a respiratory therapist (who we'll call RT), who was divorced and seemed shy. He was attractive, rode motorcycles, enjoyed outdoor activities, liked live music and had a stable job. He looked like his picture, which apparently doesn't always happen. The date went well and we actually went on quite a few dates. He friended me on Facebook after that first evening. He would like my posts and comment on them.  He shared that his ex-wife had cheated on him and I shared my similar history.
I often preface dating me with a disclaimer. I have a lot of guy friends and gubbies. They are non negotiables and sometimes make other men feel uncomfortable. Anyone that knows me, knows that I think like a man in a lot of ways, so men friends are more relatable. Additionally, gay and straight men are truly genuine friends in my book unlike some women who try to befriend me (especially after realizing what I do for a living and thinking that translates to free makeup and hair prior to going out). Eventually RT would text me one day, asking me if I got laid over the weekend. I replied questioningly asking why.  He said that the guy in the picture with me was very attractive and he wasn't sure why I wouldn't have slept with him. I was annoyed, to say the least. So I responded that I had a lot of good looking friends.  He was jealous of one of my gubbies, who I was photographed with that weekend prior. Obviously this would not work out.
Social media is a necessary evil in my business and I would never be able to date someone that would get upset by the pictures that they see on Facebook.  I also work odd hours in my business and trust is key. The group fitness instructor that I dated wanted to bring me something on an overnight shoot at a store, simply because I think he didn't believe that I was actually working. The friend from middle school I dated didn't believe that I was actually cutting and coloring a client at 10:30 in the evening, so I had my client hold up her cell phone showing date and time hostage kidnapping style and I sent that picture to him. That is when my ornery side comes out and I'm the smart ass who pisses people off.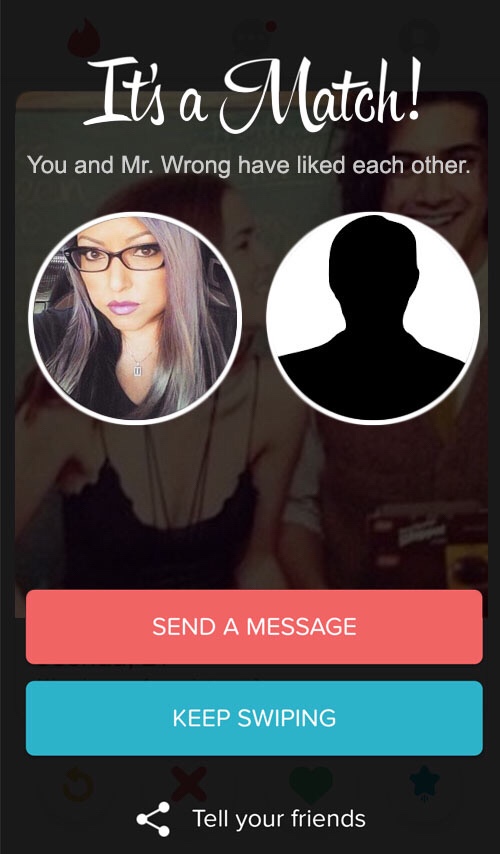 The other thing Tinder does is show mutual Facebook friends.  In order to create a Tinder profile you have to link it to your Facebook page, and your page has to have at least 50 friends (to avoid people creating shell accounts to activate Tinder). I actually called someone out for only having 50 friends (and all women) on Facebook, when I looked at their profile. He got indignant and tried to say that I obviously had problems, thus making us not a good match. He friend requested me a few months later, acting like nothing happened.
The bad side being, it is much easier for people to find you and friend request you on Facebook.  I learned fairly early on I was very easy to find. All they had to do was google my first name and makeup and there was the goldmine of my Facebook, Instagram and LinkedIn. This was the reason I never hesitated to give my phone number to actually text.  I had nothing to hide, unlike some of the men who messaged me.

Several men I went to high school with private messaged me on Facebook (some single, some not).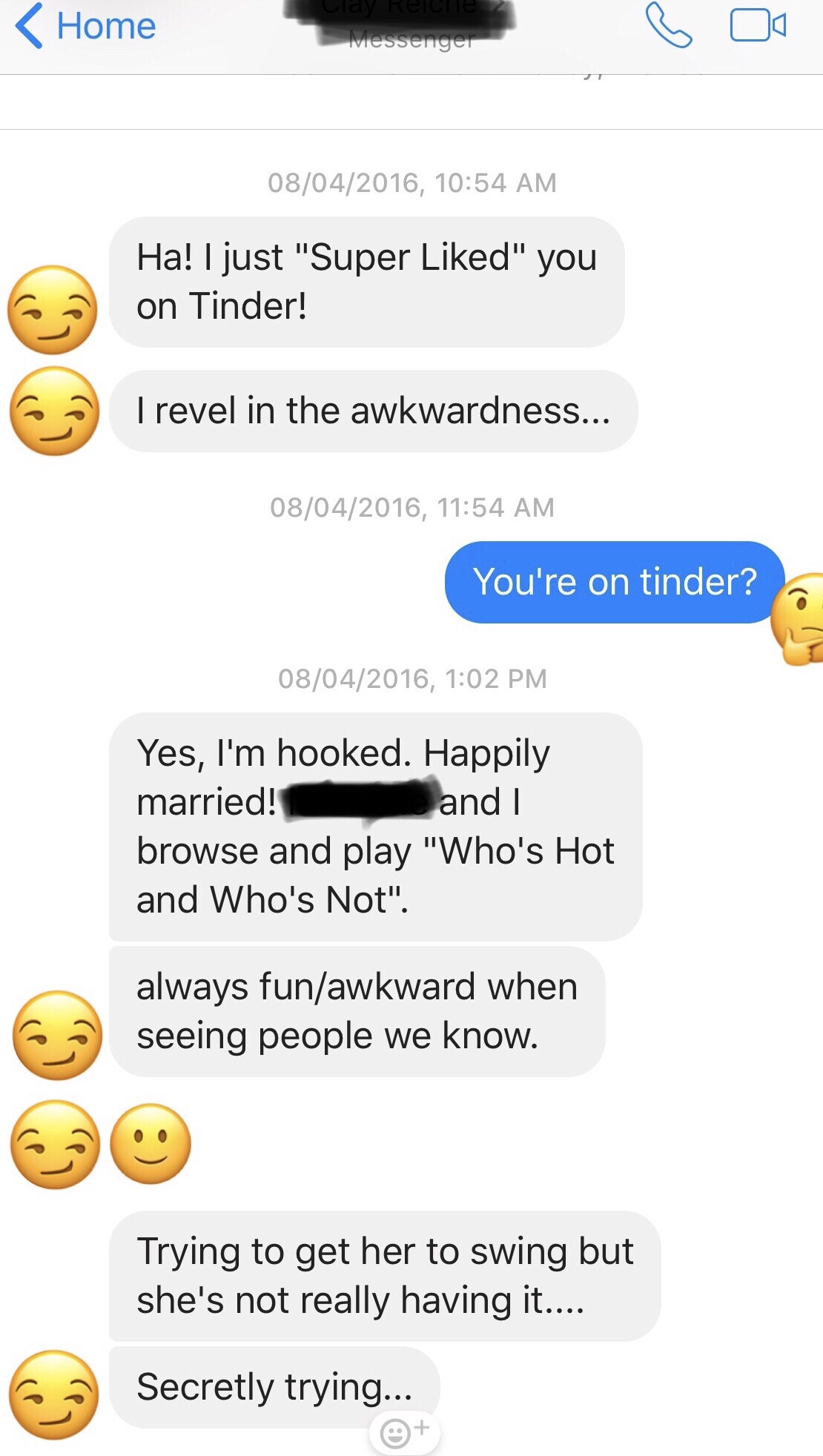 The strangest message I received was from someone who was mutual friends with a client of mine, who works in the porn industry. Porn and fetish go hand in hand, so I figured that this guy must have some strange fetish. I waited to reply to his message, until I could vet him with my client. I immediately asked my client if she knew what his fetish was.  She said she was pretty sure that he was looking for a Dominant, because he preferred to be a Submissive.  I chuckled, wondering what about my profile picture indicated that I liked ordering men around.  I will admit, I was mildly curious to see how a date would play out, so I agreed to dinner and a show. He was very pleasant, but upfront about his proclivities.  He confessed his fetish, which was not being a Sub.  He actually enjoyed "Puppy Play" meaning he liked to be crated and essentially treated like a dog.  He also said that he enjoyed "smells." I thought I was in an episode of HBO's Real Sex, at this point. While I am not conservative, it was definitely not my thing.  He was a nice enough guy, but not my cup of tea. Did I mention that guys with foot fetishes are running rampant in daring apps too?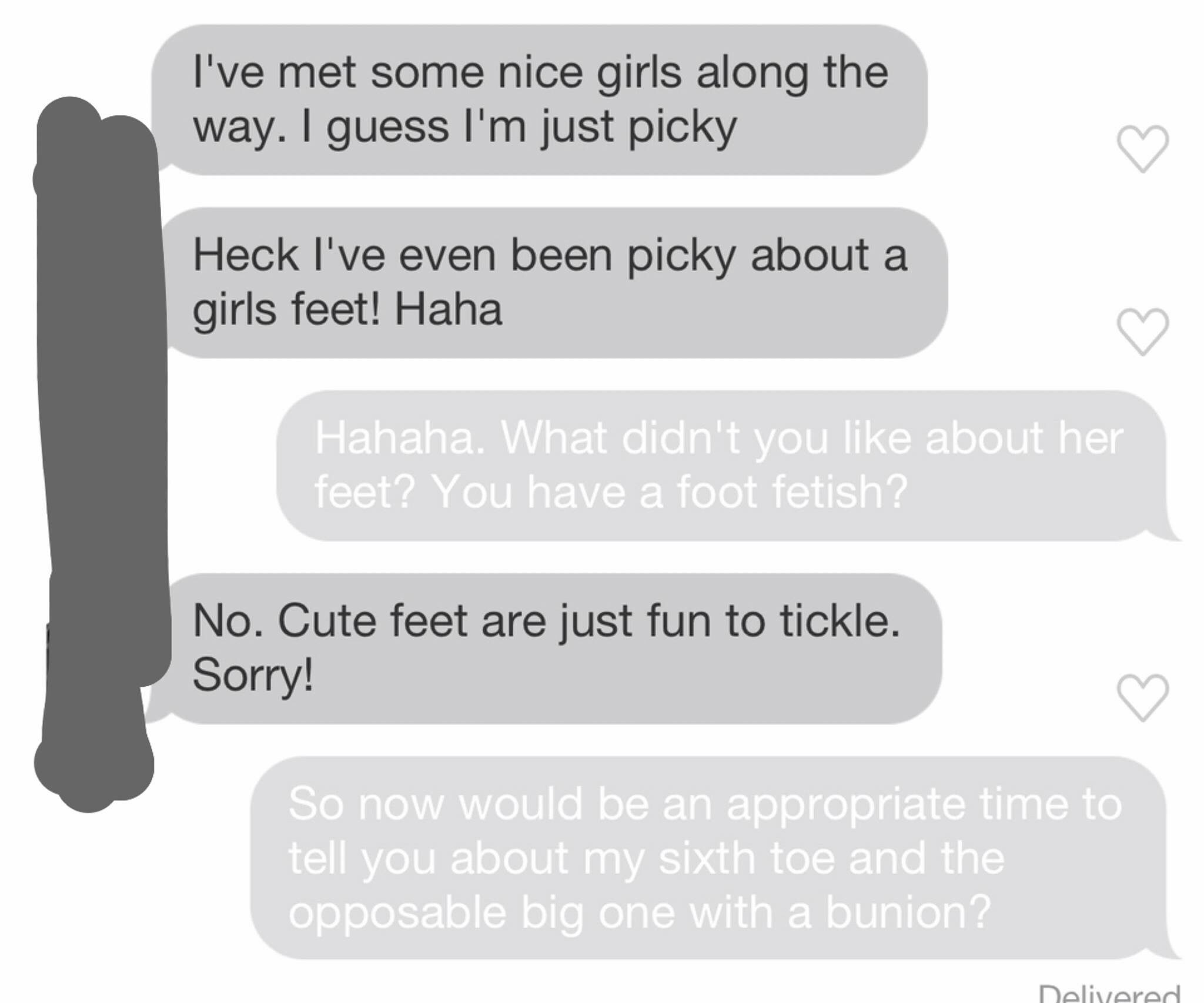 My best friend's daughter came into town for spring break and told me about this new dating app called Bumble.  She said she found better quality men on this app because the women were in charge.  Once you matched with someone, the woman had 24 hours to make initial contact. She said the men were more professional and less likely to just want to try and "hit it and quit it." This was the type of dominance I could get on board with. So…….let's get ready to Bumble (in my best Michael Buffer voice)!!!!!!!!!